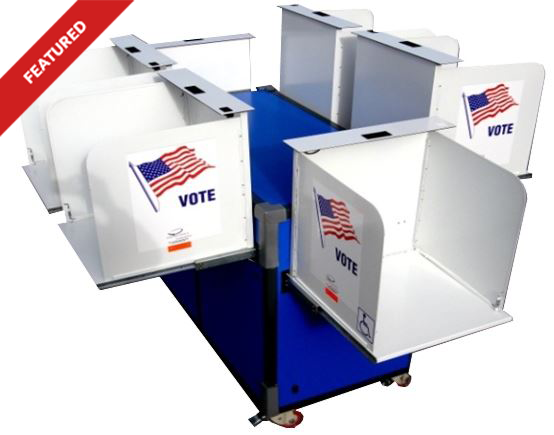 6-in-1 eSMART Multi-station Voting Booth
4 Standard + 2 ADA Compliant Booths
App and Web User Interface
First time in election industry, you have the advantage of 4 regular and 2 ADA voting booths along with a storage cart, all in a single unit. Its offers a variety of features like GPS Locator, product inventory management system for integration with election districts, customized ERP software compatibility, personalized user interface with 3D view of the product. Blockchain and biometric ballot security system with Artificial Intelligence (AI) based security pre-alert notifications.
We design and achieve market-leading performance roadmaps by combining creative thinking, technology expertise, and global reach.
These products are covered by one or more of the following US letters patent:
8,006,986 | 8,308,173 | D673,387 | D673,388 | D673,389 and/or additional patents pending.
WHAT CUSTOMERS SAY
"The service was also phenomenal. In closing the product is stable, cost effective and I would highly recommend it to any agency or concern needing voting booths that are a super value for the price."
- ALCONA COUNTY, MICHIGAN
"I ordered a few SmartPoll Voting Booths from Naztec International Group and was very pleased with the service. I received them very promptly and the quality of the booths was great."
"I am very pleased with my purchasing experience and I plan to purchase more SmartPoll Booths in a couple months. I would recommend this company to anyone interested in this type of product"
- PLATTE COUNTY, NEBRASKA
Subscribe
Enter your email address to receive the latest updates from us.